I'm getting married in the morning.  Ding dong the bells are gonna chime!  And no, I am not getting married, but we get to attend a wedding this weekend and I cannot wait!  I love a fun party!  Truly, I am giddy with excitement and can't wait to frolic with my best peeps, celebrating the wedding of Ronnie and Jon (no h).  A great time will be had by all starting with a beautiful ceremony, fun dinner, lots of dancing, libations and did I mention lobster rolls being passed as a late night snack at 11PM.  And a late-night snack truck! And lots of dancing…and I love, love, love to dance!  I mean, OMG…So, of course this begs the question, what to wear?
Especially in these days of social media, when everything is documented, you want to be appropriately dressed for any occasion.  You also may not want to  wear the same thing over and over again, for fear of people thinking you have but one outfit. #Terry'slife.    If you do choose to wear the same dress, you can change it up with different accessories.  #options.  I have always thought that was important, hence one of my first blogs The History of the Fashion Journal, in which I explain why I journal what I wear,  so I'm not always wearing the same thing with the same crowd. #savvyblogger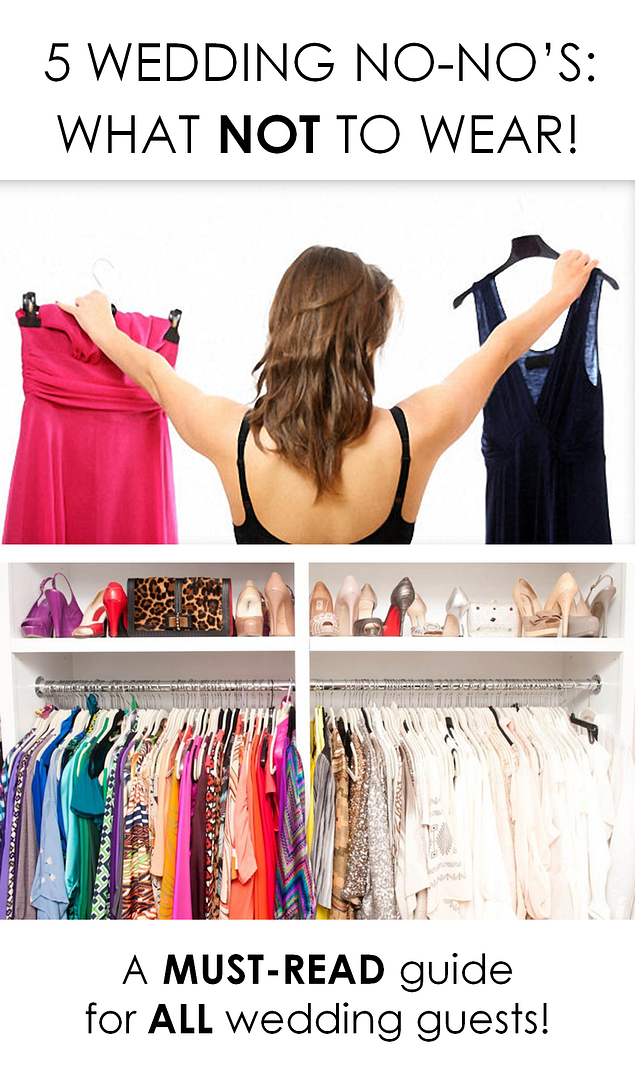 Top 5 wedding no-no's – what not to wear!
Here are five of the most common wedding dress guest mistakes women make when choosing a wedding outfit.  Courtesy of The Perfect Palette (www.theperfectpalette.com).
One rule, that isn't mentioned here,  "It's better to be overdressed than under-dressed".  That rule applies to most occasions and it's a rule that I happen to abide by.
And more "decoding"
🙂 I just thought this was Precious!
I love, love, love animal print shoes with a black dress.
More good winter options!
One side note here… spikey heels are never good on grass.  When I know I'm going to be walking on grass, I always wear a chunkier heel, so I don't sink into the ground.
My friend, D, would rock this dress!
One of my favorites, here. I love yellow dresses.
This is my option #1.  Different shoes.  I'm thinking High-heeled, red patent leather peep toe pumps.
This is my option #2.  Similar shoes.  No Tattoo.  🙂
19. "Thrift Shop" – Macklemore & Ryan Lewis Feat. Wanz
18. "Yeah" – Usher Feat. Ludacris & Lil' Jon
17. "Twist and Shout" – The Beatles
16. "Pour Some Sugar On Me" – Def Leppard
15. "Wobble" – VIC
14. "Call Me Maybe" – Carly Rae Jepsen
13. "Moves Like Jagger" – Maroon 5 featuring Christina Aguilera
12. "Single Ladies (Put A Ring On It)" – Beyonce
11. "Love Shack" – B-52's
10. "Sweet Caroline" – Neil Diamond
9. "Cha Cha Slide" – DJ Casper
8. "Gangnam Style" – Psy
7. "Brown Eyed Girl" – Van Morrison
6. "You Shook Me All Night Long" – AC/D
5. "Livin' On A Prayer" – Bon Jovi
4. "Sexy And I Know It" – LMFAO
3. "I Gotta Feeling" – Black Eyed Peas
2. "Cupid Shuffle" – Cupid
1. "Don't Stop Believin'" – Journey
This pic was from 2010, not last weekend.  AT&T Ballpark in San Francisco, is my all-time favorite ballpark…yes, I love it more than Wrigley Field.  They serve Stella and Napa Valley wines.  What's not to love? <3
Looking forward to Ronnie and Jon's nuptials. Pictures to follow no doubt. #RonJon2014.  And, a Very Happy Birthday Jay!  Sorry to miss the soiree this weekend…but we're gonna be busy dancing at the wedding of the year and eating lobster rolls!  So glad we could spend time with you last week. 🙂
Happy Halloween…Murphy is dressing up as a  "LineBarker".  Brian Urlacher should watch his bark. 🙂
xoxo,
T.
Source:  – See more at: http://www.theperfectpalette.com/2014/04/top-5-wedding-no-nos-what-not-to-wear.html#sthash.YDp5o1fV.dpuf